Crossbow Leather
Producing handmade products out of Santa Barbara, CA, owner Macy Pryor has dedicated her artistic drive to crafting high quality and timeless leather goods. Sometimes life can take a direction of it's own, with twists and turns down paths unforeseen. While entertaining the idea of new hobbies, Macy was introduced to leather making. Macy began getting requests from friends and family for everything from custom bags to one-off accessories. Before she knew it, Macy had a business on her hands.
-crossbowleather.com
I have never met someone like Macy. Her funky spirit and confidence make her a star in the room (she may be from another planet but that's up for discussion). The first time I was invited to her studio, I marveled at the way her mind works. She sees a sculpture like object in her mind, deconstructs it, then will freehand a pattern to create the leather bag of your dreams. I was blown away. That is only the beginning of what this woman can create.
Crossbow Leather is currently located in Santa Barbara, California as well as online @ crossbowleather.com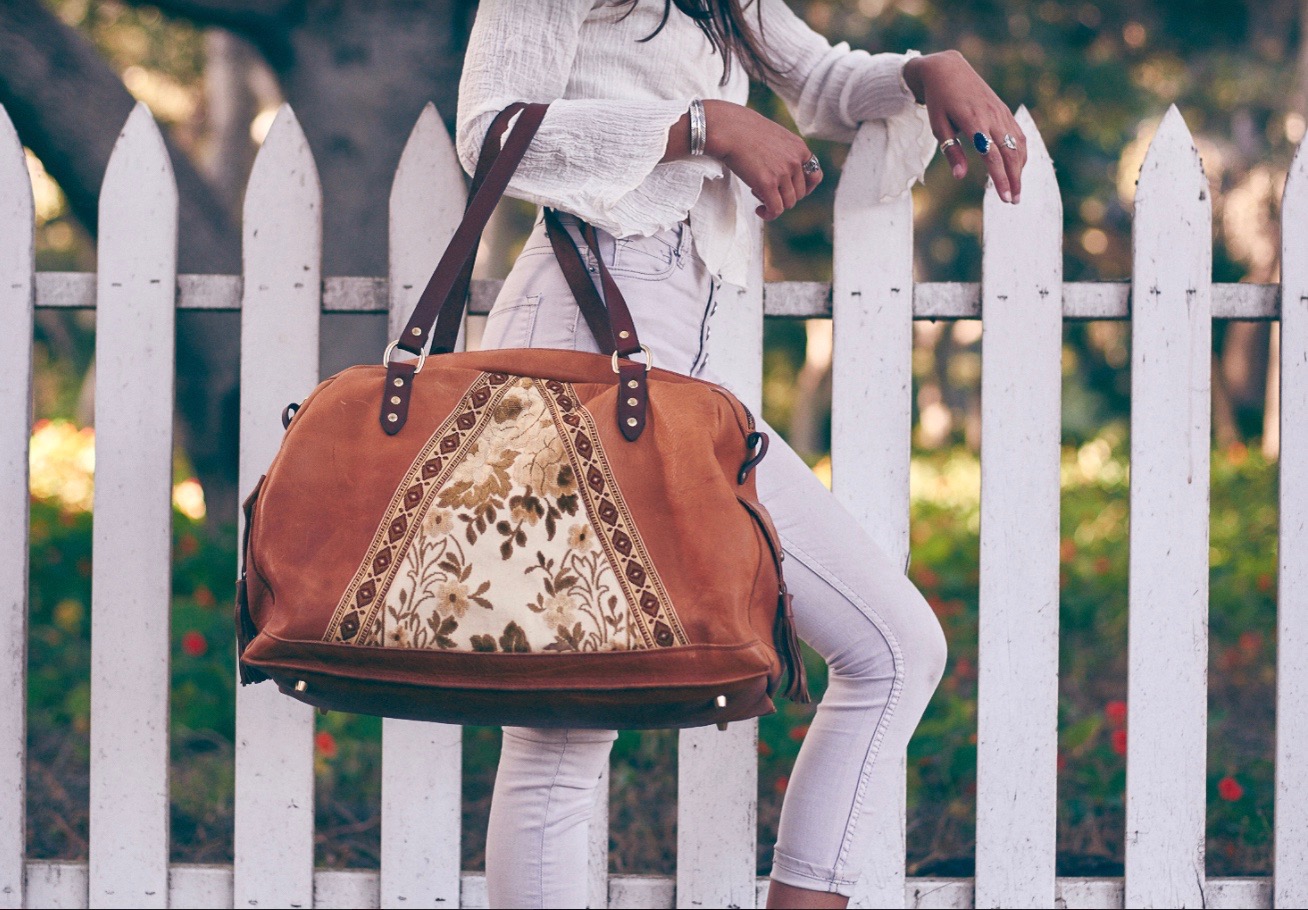 How did your art/craft find you?
How did my art find me? I would love to know the answer to that! ... it seems as though my journey as an artist began before I can remember, and everything I have experimented with since that point has become a piece of my art today. Art is about exploring, it is about creating something extraordinary out of something ordinary, or making a blank slate into a smörgåsbord of colors and textures. From my earliest memories, I never allowed anything to be just what I unpacked from the box. When I was really young I would spend all my days in the woods making fairy houses in the little caves that form at the base of spruce trees. I would make a complete mini house; a moss bed with a stick canopy and flower petal curtains, big bark tables with flower chandeliers... they were extravagant. When I got a bit older, I painted the walls of my room, I cut out magazines and collaged them all over my desk, I made duct tape wallets and purses out of juice boxes, cardboard, tape, and magazine collages. For my 12th birthday, I got my first sewing machine. I remember playing hooky from school just to sit in my basement and work on my sewing projects. I would always go into my Dad's garage and just want to build something or just organize his tool bench. I had this desire to be around tools, and let my imagination run wild with the possibilities of what I could build. My craft got better as I got older, but not necessarily more focused. I could go on and on with all of my artistic endeavors... all of which have contributed in some way to where I am today. Leatherwork was introduced to be by a beautiful friend only about 2.5 years ago after I had graduated from college and on a whim, moved across the country to California. It was a time in my life that I needed a creative outlet, and before I knew it, I was hooked. With my background in sculpture, building a bag made so much sense to me, and it seemed practical. Everyone needs a good quality bag that looks super groovy and can last them ages, and so began Crossbow Leather.
What is the most exciting part of the creative process?
The most exciting part of the creative process is the very last step; the final reveal. I sew all of my bags inside out, so at the very end when I am finished sewing, I get to flip product out, and see just how it turned out. It is an indescribable feeling to see a finished product right there in front of me that was once just a thought in my head.
If you could pick an ideal setting for your craft/studio where would it be?
I am a mountain girl to my core, so for me, I would go there. I can imaging a cabin with big windows everywhere. I like old places, old materials, vintage patinas, so a place with character. Being in the mountains does not necessarily mean being very remote. I would love to have a studio that is secluded, but close... if that makes sense.
What do you draw inspiration from?
In terms of my leather work, I draw my inspiration from my background in sculpture. My bags are made from meticulously measured materials that are assembled to create a sculpture or mini structure called a bag. I love to observe architecture and wood joints, to really understand how structures are put together.
In terms of my style, I am inspired by the world, in particular, the world of traditional and cultural crafts. There is so much beauty and knowledge in or ancient cultural techniques. I acquired a large Guatemalan patchwork quilt last year, and have since been cutting it up and sewing the different textiles into bags. In the creative process, I watched videos of how the women loom, and looked at traditional Guatemalan architecture to find structural inspiration. Just as much as I appreciate my craft, I want to acknowledge and appreciate others as well by getting inspired by different cultures and incorporating textiles in my products that tell a story. I feel like the world of artisan crafts has so much to teach, especially to each other cross-discipline.
Here is a taste of what you may hear in the studio: